Dedicated
A Scalable Fleet With Exactly Zero Hassles
As one of the few providers of dedicated services that operates both an LTL distribution network and a truckload fleet, Averitt is uniquely positioned to deliver on the fleet-related needs of businesses nationwide.
By leveraging our extensive assets of people, equipment, facilities and technology throughout our network, we provide maximum capacity while reducing both cost and risk. All in a customized structure that fits your organization like a glove.
Asset-Based Solutions For Every Size, Structure and Need
From hiring and training staff, to systems management, to specialized equipment, we offer comprehensive solutions tailored to your specific needs — whether in the form of a pure dedicated fleet, or an integration of your existing fleet with our distribution network and over-the-road assets.
Our customized solutions not only improve customer service and maintain your professional image, they also lower your overall transportation costs with offerings like backhaul revenue gain-sharing. So you get all the benefits of a private fleet without the hassles of owning, operating and maintaining one.
Capacity Management
With more than 100 LTL distribution facilities as well as a truckload fleet, we're able to "flex up" or "flex down" based on demand fluctuations.
Professional Image
Not only have our associates set new standards for professionalism in the industry, our well-maintained trucks and trailers are the cleanest and most reliable on the road today.
Customized Equipment
In addition to offering customized refrigerated services, Averitt can provide custom-built trailing equipment ranging from flatbeds, to dropframes, to conestogas, or curtain sides.
Maintenance
With 30 maintenance facilities, as well as a national network of service providers, we keep downtime to a minimum while ensuring that our fleet stays in excellent condition.
Technology
Our customized technology allows for maximum visibility through EDI, GPS and mobile communication. And our advanced route optimization and planning software streamlines routing plans.
Flexible Contracts
Rather than forcing you to commit to long-term contracts, our asset-based flexibility allows us to offer agreements that are entirely market-based.
You Take Care of Business, We'll Take Care of Your Fleet.
At Averitt, we're committed to meeting our customers' fleet-related needs. Our customized solutions fit seamlessly into your supply chain, creating efficiencies while eliminating headaches. It's this focus on industry-leading service, combined with our philosophy of continuous improvement, that has placed us on Transport Topics' "Top Dedicated Contract Carriers" list.
So find out for yourself what a fully optimized fleet solution can do for your business.
With Averitt Dedicated Services.
---
Case Study: Cracker Barrel
Read the Case Study
Case Study: Shoe Carnival
Read the Case Study
Case Study: Petco's Pet Project
Read the Case Study
---
Learn About Averitt Enterprise, Our Leading-Edge TMS powered by Oracle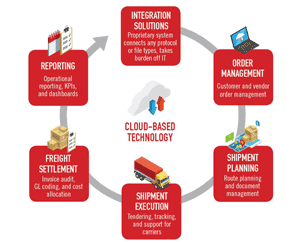 Learn More Now!
Four Supply Chain Risks to Avoid
Are You At Risk?
Need immediate assistance? Contact our Dedicated Services Specialist Walt Gray at 1-615-333-4431 or by email.