Distribution and Fulfillment
Averitt Distribution and Fulfillment gives shippers vast control and flexibility over their inventory logistical needs. Whether you ship small parcels or less-than-truckload freight, we have you covered—literally. From warehousing services to order fulfillment, our team can deliver a complete supply chain solution.
20+ Shared-Space Distribution & Fulfillment Centers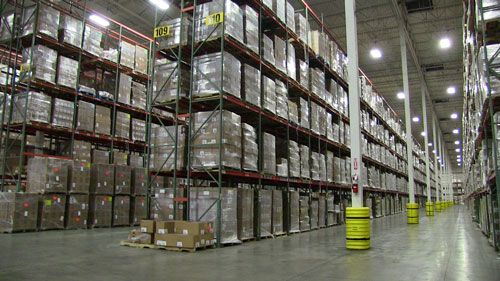 The Averitt Distribution and Fulfillment network consists of more than 20 secure facilities. Located across the Central and Southern U.S., our network offers more than 2,000,000 sq. ft of freight staging space. Facilities are enclosed, temperature-controlled and secured 24 hours a day.
Our facilities are strategically positioned to offer increased speed-to-consumers in key markets. Locations include Nashville, Cincinnati and Charlotte—just to name a few. From our locations, we offer shared-space warehousing. This allows shippers to position inventory for quick delivery without the costs of operating an independent warehouse.
In addition to shared-space warehousing, we offer dedicated warehousing management. This service is ideal for shippers that need a large amount of space to handle high volumes of freight movement. Through this service, we will source, lease and staff the entire facility to the shipper's specifications.
To find a shared-space warehousing location near your area of interest, please use the drop-down menu below.
---
Complete Inventory Visibility From Anywhere
All Averitt distribution and fulfillment centers are equipped with warehouse management system technology. Our platform provides real-time inventory data and analysis. The program also offers customized inventory control and reporting from anywhere around the globe.
Utilizing a WMS enables shippers to identify trends that can improve the purchase order process. Additionally, we can integrate a shipper's preferred WMS at any of our locations.
Need Space For Inventory? Take A Look At Our Available Warehousing Space
See Available Warehousing Space Now!
Warehouse Management System Integration
Learn More
Customized Inventory Management & Processing Solutions
We can manage every need your inventory has before shipping. Our distribution and fulfillment centers are equipped and staffed to handle small products and large freight. We offer a variety of inventory processing and packaging solutions, including:
Quality check
Packaging
Barcoding & scanning
Labeling
Shrink wrapping
Light assembly
and more...
From the way your inventory is handled and stored, we customize our service to your needs. Whether it's pick and pack racks or floor loaded pallets, we can handle any size of freight.
End-To-End Supply Chain Solutions & Order Fulfillment
Using our facilities to stage your inventory or freight brings the added benefit in that we can handle every aspect of your supply chain. Averitt is one the largest asset-based supply chain solution providers in North America. Our team handles transportation needs all the way from international forwarding to pool distribution and final mile delivery.
Our team works closely with shippers to develop streamlined supply chain strategies. From customized e-commerce logistics plans to retail distribution services, our focus is helping shippers reduce transportation spend while improving lead times. Utilizing our distribution and fuflillment centers, we can handle the entire process of flowing freight in and out from origin to destination.
We believe that logistics shouldn't be a challenge for companies. That's why we help shippers simplify the entire process with:
One Contact. One Invoice. Zero Worries.
That's The Power of One!
---
Piecing Together The E-Commerce Supply Chain
Download The E-Book Now!
Amazon FBA Case Study
Download Case Study
---
Want To Learn More? Contact Us Today!