On Tour Logistics
The #1 Source For Production & Entertainment Industry Logistics
For nearly 50 years, Averitt has helped shippers succeed at every turn in their supply chain. Our award-winning services, however, are not limited to standard freight transportation. Averitt's On Tour Logistics specializes in providing customized solutions for the production and entertainment industries
Whether it's moving sensitive lighting rigs for a local event or managing the logistical needs for a recording artist's worldwide stadium tour, Averitt can handle the details and ensure that your event delivers as promised. From stage setup and takedown to moving event equipment across the country, our team has experience managing the logistical needs for dozens of renowned artists and production companies.
Our artist and production clients include:
Billy Idol
Childish Gambino
Country Music Association
Ed Sheeran
Feld Entertainment
Jake Owen
Christie Lites
Red Hot Chili Peppers
And more...
On land, air and water, On Tour Logistics provides seamless transportation solutions to ensure that the show always starts on time! We offer every logistical solution a client may need while on the road.
Our services include:
Dedicated trucks
Secure equipment transportation
Expedited transportation
Domestic and international air charter
Ocean and rail transportation
Equipment warehousing
Professional Drivers and Customized Equipment
On Tour Logistics drivers and staff are trained to transport and handle all types of production gear. Uniformed, punctual and always responsive, our team represents our clients with the highest level of professionalism.
From a one-truck production run to a multi-truck tour, we have the equipment to handle any logistical need. Our trailers are modified specifically for quick loading and unloading at venues with ramps, LED lighting and secure load bars and straps. We can even provide specialized equipment to store your merchandising as well!
The Power Of One
When you partner with Averitt Express, you can always count on simplicity with:
One Contact. One Invoice. Zero Worries.
That's The Power of One!
---
Recent Productions Photo Gallery
View Gallery Now!
Meet Our Professional Drivers & Crew
Learn More!
See Our Artist & Production Clients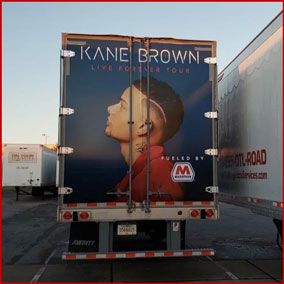 View Our Clients!
---
What Goes Into The Logistics Behind Large Concert Tours?
An incredible amount of detail and planning are required to pull off large concert tour such as rapper Drake's 2016 "Summer Sixteen" tour. Check out this article from FreightWaves that takes a deep dive into the logistics behind your favorite concerts.

---
Want To Learn More? Contact Us Today!
If you have any questions or would like to speak with a member of our team, please fill out the form and we will contact you shortly.
Additionally, you can reach out directly by email.